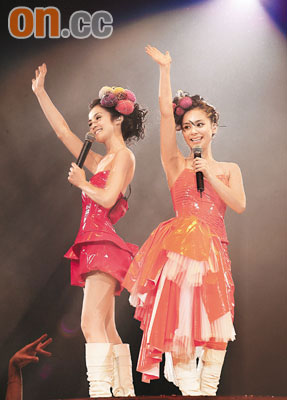 Charlene Choi (L) and Gillian Chung on stage. [File Photo:on.cc]
The Hong Kong pop duo Twins will separate after seven years of making music together, a report by Web news portal Sina.com.cn said on Sunday.
Although the female pair has stopped recording their latest album, their agent, Emperor Entertainment Group, has not yet responded to reports about the breakup, the article said.
"They have different styles and they are capable of working independently." Huo Wenxi, a producer from the company was quoted in the report as saying. "There's no plan for the two stars to work together in the near future."
Gillian Chung and Charlene Choi, the members of the Twins, have not made any public appearances together in almost five months since revelations came to light that Chung had been involved in a sex photo scandal. In the meantime, Choi has been attending various entertainment events alone to represent Twins.
The music group has won fans from Hong Kong and the Chinese mainland after it debut in 2000.
In 2007, Twins won the Most Popular Female Singer award at the Music-On-Demand Best 10 Awards ceremony held by Hong Kong's TVB station. It was the first time that a duo won the title.
At present, Choi is shooting scenes for the upcoming action film "Storm Warriors." Chung will head to Hollywood to audition for a movie by director Oliver Stone.(CRIENGLISH.com)