US computer networking giant Cisco Systems aims to grow China into one of its top three markets within five years, a company executive said yesterday.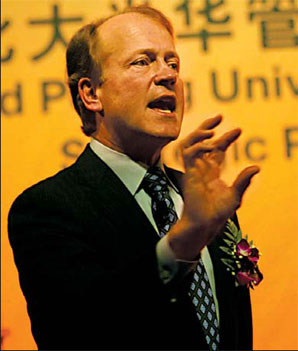 Chairman and CEO of Cisco Systems John Chambers delivers a speech at Peking University yesterday, where Cisco announced a deal with the university to invest $20 million to establish the Guanghua Cisco Leadership Institute to train China's business and government leaders.[China Daily]
Company Chairman and CEO John Chambers said China, which is "in a dynamic state of transition", is emerging as a strategic market for Cisco, the world's largest maker of routers, switches and other equipment that make up the Internet.
The ambitious goal comes on the heels of a $16 billion expansion plan for China unveiled by Cisco in November. And it comes at a time when China is overtaking the United States as the world's largest Internet population, and businesses in the country are embracing networking technologies, especially network-enabled collaborations, to cut costs and increase operational efficiency to compete in a globalized market.
This is fueling demand for expansion and upgrade of the country's Internet networks, which could unleash orders for networking gear and services provided by Cisco.
Chambers said Cisco will sign a memorandum of understanding today with the National Development and Reform Commission (NDRC) to cooperate in a number of areas, including the next-generation Internet, and green research and development programs.
The NDRC has been spearheading research and building of the China Next Generation Internet (CNGI), which could offer faster and more secure access, and larger network capacity.(By Li Weitao (China Daily))