Today, the world remembers Iris Chang as a champion for justice, because Iris Chang refused to let the world forget injustice. But while most people know about Japan's brutal 1937 invasion of Nanking (Nanjing) through her work, few know much about the young Chinese American author who struggled to ensure its 300,000 victims didn't fade into obscurity.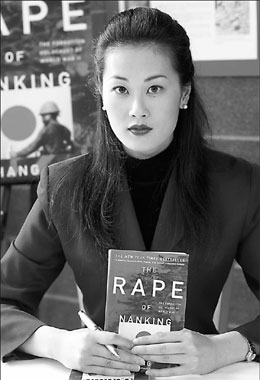 Iris Chang
That's why the creators of the docudrama Iris Chang: The Rape of Nanking chose to recount the Nanjing Massacre from the perspective of the impassioned writer, historian and activist.
The film's creators believe that approaching the story through her narrative - rather than a conventional documentary approach - appeals to broader audiences because of the eminence of Chang's 1997 bestseller, The Rape of Nanking: The Forgotten Holocaust of WWII.
Chang committed suicide in 2004. She had been suffering clinical depression and her husband Brett Douglas said she pushed herself too hard. "The accumulation of hearing those stories, year after year after year, may have led to her depression. But that's just speculation. I think she also pushed herself too hard," Douglas told San Francisco Chronicle after her death in November, 2004.
She left her unfinished aspirations to complete an oral history project documenting victims' firsthand accounts and to shoot a documentary about the atrocities.
"Her legacy is this invaluable contribution to our collective knowledge, and so we chose to tell her personal story as well as the story of Nanking," says executive producer and co-director Anne Pick.
"Our film will follow Iris' journey as she researched and wrote her groundbreaking book, and through her experience, the horror that was the rape of Nanking."
According to co-director Bill Spahic, this storytelling approach would not only make the documentary unique among the films about the Massacre coming out as its 70th anniversary draws near, but also would further personalize the tragedy.
"These events will not be third-person, cool narrative over archival footage, but will have first-person real impact on Iris Chang and, through her, the audience," he says.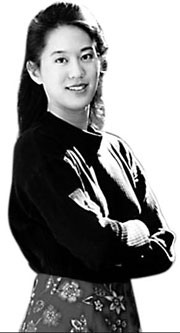 Chinese-American writer Iris Chang

The world premiere of the $1.5 million film, a joint project of Toronto-based Real to Reel Productions and the Canada Association for the Learning and Preserving of the History of WWII in Asia (ALPHA), begins today in Toronto, Canada. The docudrama would then be broadcast on national TV in North America and Asia. It is scheduled to premiere in China at the reopening of the Memorial Hall of the Victims in the Nanjing Massacre on December 13, the 70th anniversary of the invasion.
"People never learn about this history in North America," vice-chairperson of Canada ALPHA Liu Meiling says. "Making this film is another educational tool."
The film melds historical footage, excerpts from Chang's TV appearances and speeches, dramatic reenactments and interviews with Japanese soldiers and nine victims, including Xia Shuqin, the last remaining survivor Chang interviewed.
"It was very emotional, because Xia knew Iris and knew her so well," says Liu, who translated during the interview. "She became very emotional when talking about Iris' death. When she'd talk about her, she'd start crying. She kept saying: 'She was such a sweet person; she was such a good person'."
Liu says she often struggled to maintain composure in her role as a translator during the interviews. There were several times during the filming when crewmembers embraced one another and wept together, Liu says.
"Back at the hotel, I had trouble shaking off the emotion," she says. "But I'd tell myself that what we were doing was bringing a ray of hope to the world."
It was particularly sorrowful for Chang's parents - whose own parents narrowly escaped the Massacre - who gave direct input in the filmmaking and flew to Nanjing to give their testimonies on film.
"It's very painful for my husband and me to go through this again, to go through the interviews," Iris' mother Yingying Chang told China Daily. "The pain will never go away. People say time heals all wounds, but I don't think so."
Since Iris' passing, her parents have "taken up her torch". They say it's their way of dealing with their daughter's untimely death.
"This is the sacrifice on our part, and I think it's worth it," Yingying Chang says. "I take it as a business. I think Iris would be happy to see we still continue to carry on her work."
When the former professors came out of retirement to become a husband-and-wife team of activists, they established the Iris Chang Memorial Fund, which stages activities aimed at education and an annual essay contest.
While one of the main goals of their efforts, and of the film, is to persuade the Japanese government to redress the victims of the Massacre, Yingying Chang points out: "It's not anti-Japanese. It's to let people know this happened."
Iris Chang's parents set up the Iris Memorial Fund

Shaujin Chang, the father, believes the timing of the film's release is conducive to winning redress from the Japanese government.
"With the new leadership coming in, the movie comes at a very appropriate time," he says.
Liu says that because the docudrama was created by Canadians and tells the story through Iris' struggle, it would hold more credibility as "unbiased".
"I think it'll be more accepted by Western audiences, as we bring in Iris - a young woman brought up in America who is confronted with issues that go above and beyond culture," she says. "She was more American than Chinese and treated this as a human issue rather than a cultural issue."
Chang's character is played by Canadian actress Olivia Cheng, who was already working on a project about Chang when she heard about the casting call. She earned her audition with a clamant e-mail that said, "I was born to play Iris Chang", and she was chosen over more than 200 actresses who tried out.
"Even before this movie project came along, I was determined to bring Iris' story to the big screen one day," Cheng says. "In the same way she didn't want the Nanking Massacre to be forgotten, I didn't want Iris to be forgotten."
Cheng first learned about Chang after reading about her book in Reader's Digest in 1998. But it wasn't until eight years later that she read The Rape of Nanking. Upon completing the book, she went to California where she delved into Chang's archived materials at Stanford University's Hoover Institution. She then established contact with Chang's loved ones and friends.
"And when I heard about this film, I immediately dropped to my knees and prayed. I thanked God for putting this project in front of me, because I knew I was going to be a part of it," she says.
According to the creators, the film's main theme is "man's inhumanity to man and our own personal responsibility to prevent such horrors as Nanking, Auschwitz and Rwanda".
And so the film opens with footage of Chang saying: "The rape of Nanking was something that always could happen, and it did happen, and we have to learn from history if we want to make sure it doesn't happen again."(Source:By Erik Nilsson (China Daily))