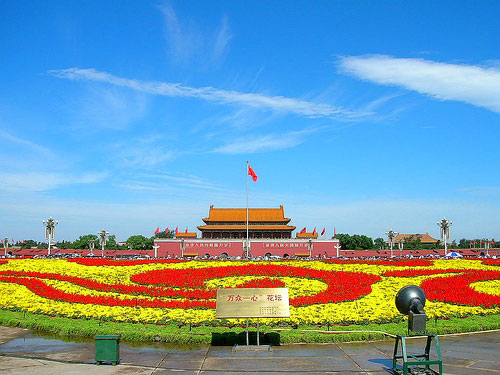 Beijing's Tian'anmen Square is ablaze with flowers, September 27, 2007. There is perhaps no better time to savor the charm of Tian'anmen Square than during the National Day holiday. [Photo: CRIENGLISH.com]
There is perhaps no better time to savor the charm of Tian'anmen Square than during the week-long National Day holiday.
Stretching in front of the Forbidden City, it is ablaze with the color of 400,000 pots of flowers in full bloom.
This year's major events can be seen at the city's center. Looking east are scale models of the Acropolis in Athens, the Great Wall, and a 9.8-meter Olympic torch, which represents the torch relay from Greece to China.
To the south can be seen models of the Temple of Heaven and major scenes marking key events in the history of the Communist Party of China (CPC) to welcome the 17th National Congress of the CPC which starts on October 15.
A big fountain sprouts water as high as 60 meters in the middle of the square surrounded by a bed of flowers.
"The square is always the best place to experience the festive atmosphere of the National Day," Deng Chuanmei, 48, a visitor from Jiangsu Province, said.
Wei Liqing, a Beijing resident, said she has taken photos and videos at the square every National Day holiday since 1992. "I want to record the pace and growth of our country," she said.
Work on the decorations and flower displays started about 25 days ago, and was carried out at night to avoid disrupting tourists and traffic, Zhou Jianping, an official with the Beijing gardening and forestation bureau, said.
He said this year's decorations include 130 kinds of flowers, of which more than 20 will also be on display during the next year's Olympic Games. If weather permits, the flowers will be shown until the end of the month.
The capital's tourism administration bureau has predicted that about 1.7 million people will visit the capital during the seven-day holiday.
(Source:China Daily,By Zhu Zhe)