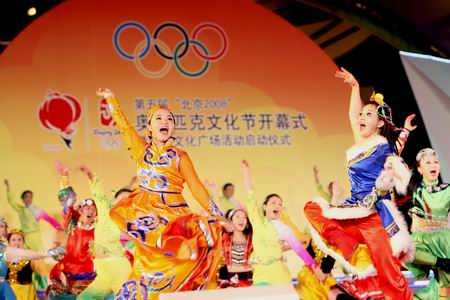 Dancers perform at the opening ceremony of the 5th Beijing 2008 Olympic Cultural estival, in Beijing on Saturday, June 23, 2007. [Photo: beijing2008.cn]
BOCOG President Liu Qi announces the official start of the 5th Beijing 2008 Olympic Cultural Festival, in Beijing on Saturday, June 23, 2007. [Photo: beijing2008.cn]
The 5th Beijing 2008 Olympic Cultural Festival opened on Saturday evening at the International Sculpture Park in Shijingshan District.
During the ceremony, BOCOG President Liu Qi, who is also a member of the Political Bureau of the Central Committee of the Communist Party of China (CPC) and secretary of the Beijing Municipal CPC Committee, announced the official start of the fifth Beijing 2008 Olympic Cultural Festival. Chen Zhili, State Councilor and BOCOG First Vice-President, also attended the event and unveiled a piece of themed sculpture for the cultural festival.
Addressing the opening ceremony, Meng Xiaosi, Vice Minister of Culture and chief organizer of the cultural festival, said the event would play an important role in promoting the Olympic spirit and building up a positive Olympic environment. In particular, the event would serve to foster the spirit of "I participate, I contribute, and I enjoy."
During the ceremony, local choirs, performance groups and disabled persons' organizations performed their Olympic-theme songs and dances for the audience. Olympic champions and popular singers also appeared on the stage.
Themed "One World, One Dream - I participate, I contribute, and I enjoy," this cultural festival integrates sports with culture, featuring about 110 sports and cultural activities ranging from Olympic live sites, films, forums, exhibitions, open-air concerts, and cultural activities for people with disabilities and the youth.
The cultural festival is the fifth one of its kind in a row since its debut in 2003 and the last one before the opening ceremony of the Beijing 2008 Olympic Games.