1971 - Present
CSC History
For decades, the Chinatown area near downtown Los Angeles served as the primary enclave for recently arrived Chinese immigrants and refugees -- the vast majority of whom did not speak English. Then, up to the mid-1970's, Chinatown did not have the proliferation and variety of Chinese-speaking services and businesses it does today. Those Chinese immigrants who did not speak English often remained isolated, with no resources to meet their health and welfare needs. With limited English language skills, many in the Chinatown community were unable to access public and private services available to the general public much less take advantage of the wider economic opportunities available in the mainstream society beyond the borders of Chinatown.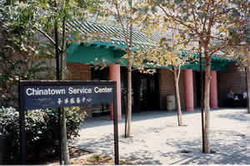 A small group of community volunteers recognized the need to address the problems of Chinese immigrants. From this initial recognition of need, evolved today's general concept of the Chinatown Service Center (CSC) -- that is to provide services and resources to help all immigrants and refugees of the community to adjust to and participate in life in the United States.
The actual roots of the CSC go back to 1971, when the Chinese Methodist Church hired a bilingual worker who worked at a small office in the church and counseled many newly arrived Chinese. Over the next four years, these early efforts attracted bilingual volunteers to assist its growing number of clients and its work gained broader community support.
In 1975, CSC moved from its Church affiliation and was incorporated as a non-profit organization dedicated to community service. Shortly thereafter, the CSC became a United Way agency and received an allocation to continue its work. Later that year, we were awarded our first government grant from the City of Los Angeles to establish an employment training program.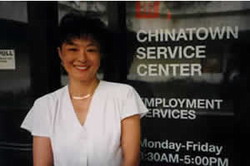 Over the next decade, additional needs arose in the community. First, there was a marked proliferation in number of Southeast Asian immigrants and refugees -- Cambodian and Vietnamese. Second, the geographical service area expanded dramatically -- eastward into adjacent Monterey Park, Alhambra, and the San Gabriel Valley. CSC responded by expanding our staff and providing services far beyond the borders of Chinatown.
CSC Office locations
In March 1985, CSC began occupying part of the first floor of the newly built, low income senior housing building called Cathay Manor. That location at 600 No. Broadway in Chinatown, consists of approximately 5,600 square feet of office, training and counseling facilities. In four years, CSC's programs had outgrown the Cathay Manor space.
In 1990, the Board of Directors took the bold step of purchasing 8,000 sq. ft. of space located on the fourth floor of Alpine Towers, 767 No. Hill Street, about two blocks from the Cathay Manor site. Currently the site houses CSC's employment and counseling programs, citizenship classes and a computer lab, and CSC's administrative offices.
In 1991, CSC completed improvements at Alpine Towers, establishing it as CSC's "main office". By April, remodeling of the Cathay Manor space was completed, doubling the size of our health clinic and expanding our social service program space. That established the Cathay Manor site as our "branch office".
In 1992, CSC opened a small part time office in Monterey Park, located on Atlantic Blvd. After three years at that location, CSC's Monterey Park Office moved to a more accessible site at Chandler and Garvey. The office offers assistance for the elderly who are living at home.
In 1998, CSC's "branch office" moved to Alpine Towers consolidating all of CSC's services under one roof.
In 2001, CSC opened a Youth Center at 727 N. Broadway to expand its services to youths.
What is CSC Today?
Today, Chinatown Service Center is the largest community-based Chinese American health and human service organization in Southern California. With a focus on Los Angeles County, CSC offers a range of services through six departments. These are (1) Social Service, (2) Counseling, (3) Family Health, (4) Community Economic Development, (5) Workforce Development, and (6) Youth Development. Services are available in a variety of Chinese dialects, including Cantonese, Mandarin, Toisan, Chiu Jou, and languages including Vietnamese, Spanish, and Khmer (Cambodian).
CSC is a private, non-profit organization, incorporated under the Internal Revenue Code, section 501(c)(3), for the purpose of serving immigrants, refugees, and others in need of assistance in their adjustment to American life. We currently operate programs with funds from the federal government, State of California, the County and City of Los Angeles, United Way and other sources. CSC employs about ninety (90) staff and has an annual operating budget of about $5.7 million.
The growth of staff and services at CSC since its modest beginnings in 1971 reflects an expansion of the Center's goals. Over and above "adjustment to life in the United States," CSC promotes broadened individual accomplishment and participation in the general community to the extent of the individual's physical and mental capabilities which is, after all, the embodiment of the American dream.
To achieve these expanded goals, the CSC continues to: o Assist communities in developing necessary and appropriate social, family, health-care, housing, and economic resources.
o Assist persons and their families in finding and making effective use of resources for developing their abilities and living purposeful lives.
o Establish and maintain programs and services which assist immigrants and refugees in becoming productive members and successful small business owners of the community
o Promote a climate of acceptance of persons without regard to race, ethnicity, country of origin, or socio-economic condition.
o Develop programs that help youths gain a sense of competence, usefulness, belonging and power
Those associated with CSC take great pride in the role the Center plays toward the betterment of the community-at-large. Finally, the CSC remains dedicated to assisting all segments of the community to achieve the dreams and fulfill the promises of this American society. (Source: cscla.net)