TUCKED behind Times Square, the upscale shopping mall that sits just north of the Happy Valley racecourse in Hong Kong, a little-traveled alley is starting to take off in a big way. Yiu Wa Street consists of one long, curved block, but in the past year it has become a center for high-end shopping and trendy night life.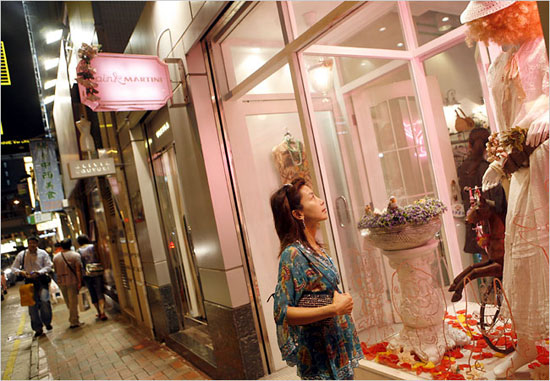 (Window-shopping on Yiu Wa Street in Hong Kong, where high-end stores mingle with trendy bars. Photo: Timothy O'Rourke for The New York Times)

(Map: Yiu Wa Street)
Among the clutch of boutiques and bars that line either side of the street, a few stand out for their uniqueness or their bargains. One in the former category is Kevin Cheung's H3 workshop, on the second floor of 1A Yiu Wa Street, 852-2573-3321, on the Web at www.kevinscreature.com.
All sorts of items carry Mr. Cheung's stylized husky motif, including figurines from 50 Hong Kong dollars (about $6.50 at about 7.6 Hong Kong dollars to $1), hats from 150 Hong Kong dollars and sweatshirts from 280 Hong Kong dollars.
A couple of doors down at No. 3, with a window lit by a pink neon cocktail glass, is Pink Martini, 852-2574-1498. In addition to clothing from Japanese and European designers, the shop carries pieces by Humphrey Cheung (no relation to Kevin), a graduate of the Central Saint Martins College of Art and Design in London. His tops with appliqués of lace and buttons start at 420 Hong Kong dollars. Next door at the same address is Olivia Couture, 852- 2838 6636, where, since last year, Olivia Yip has made fashionable dresses for socialites tired of wearing Prada and Dior to formal occasions. A beaded qi pao (the classic high-collared dress also called a cheongsam) made from a mesh of white silk flowers costs about 25,000 Hong Kong dollars; other dresses in up-to-date styles range from 20,000 to 200,000 Hong Kong dollars.
For people with more modest budgets, Walk-In Closet at 15-21 Yiu Wa Street, 852-2838-1163, began offering a chic bohemian aesthetic last year. Its own Closet brand uses a colorful selection of luxurious materials, with some pieces influenced by the traditional clothing of ethnic minorities in China. Nearby at No. 21 is a storefront that looks like yet another repository of fancy handbags and shoes. But Sandy Collection, 852-3428-3243, has a secret hidden in a back room: racks of second-hand couture, much of it used only once or twice before being traded in for the new season. Shoppers may find a Marni bag in sequined doe suede for 1,380 Hong Kong dollars, or a lime green Chanel jacket for 4,200 Hong Kong dollars.
For a break from shopping, the other side of Yiu Wa Street houses half a dozen bars. Sake, at No. 26, 852-2295-6010, mixes Japanese rice wine into extravagant cocktails like the Niigata Horizon, made with fresh guava and apple schnapps. Most drinks are 70 Hong Kong dollars. The relaxation continues in the many day spas packed into Yiu Wa Street's two towers, the Bartlock Center (No. 3) and the Redana Center (No. 25). On the second floor of the Bartlock Centre, 10 foot 10, 852-2591-9188, specializes in foot reflexology and full-body massage in a mellow, dimly-lighted space that has been open since December. Hour-long treatments are all less than 200 Hong Kong dollars.
Afterward, take the elevator up to the 21st floor for Melange, 852-2838-0099, a sleek restaurant with an Italian-influenced menu. Set dinners start at around 250 Hong Kong dollars, with entrees from less than half that price. For dessert, the ginger crème br?lée is not to be missed. (Source: The New York Times /By DANIEL ALTMAN)