Chinatown Arts & Cultural Festival: Bringing the World to the Heart of Chinatown (July)
Sun Yat-Sen Park Courtyard (50 East Pender Street)
Info: 604.658.8850
Diverse cultural showcases on the open stage from China, South Asia (India & Middle East), First Nations, Japan. Live performances, music & dance, artisan marketplace, food tastings, kids' crafts.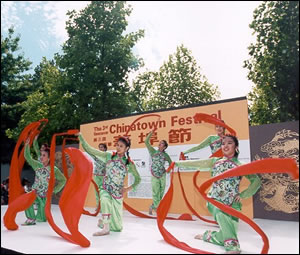 Mid-Autumn Moon Festival (Sunday, September, 2006)
Featuring music, demonstrations, exhibitions, tea ceremony, and mooncake sampling to celebrate the harvest and family togetherness. Everyone welcome. Donations appreciated.
Chinatown Festival (August)
500-block Columbia Street (between Pender and Keefer)
Info: 604.632.3808
Chinatown's largest day-time summer event. Last year, over 38,000 people including local residents and tourists basked in the series of mesmerizing performances and fascinating activities. Highlights include a Chinatown heritage and cuisine walking tour, traditional Chinese folk art, live demonstrations by artists from China, the popular Chinatown Youth Talent Showdown, stage performances, children's games and activities. Everyone is invited to the food tasting zone, arts and crafts sidewalk sale, community open houses, and the Chinatown Night Market. Free admission.

Winter Solstice Lantern Procession (Wednesday, December, 2006)
Marking the shortest day and the longest night of the year. Celebrate "dong zhi," the arrival of winter with hundreds of handmade lanterns, lights, dragons, and music from 7:00 - 9:00pm. Free event, but donations appreciated. An event partnership with the Secret Lantern Society.
Chinese New Year Parade (Sunday, January - February , 2007)
Held on the first Sunday of the Chinese (Lunar) New Year. Celebrating the arrival of spring and the Year of the Rooster with thousands at the biggest parade through Chinatown, lions, storytelling and crafts, lucky red packets and much more for the whole family from 10:00am - 4:30pm. Everyone welcome. Donations appreciated.
Special events by the City of Vancouver and Chinatown Next (formerly VCRC Youth):
Dodgeball Tournament (December 10, 2006)
Chinese Cultural Centre Gym